Data connections are secure configurations to supported data sources.
Supported data sources
Athena
BigQuery
MariaDB
MS SQL Server
MySQL
Postgres
Redshift
Snowflake
Transform
More coming soon - let us know if there's one you want us to prioritize
Add a new connection
Navigate to the Data sources tab within a project in the left sidebar.
When you click Add you will be prompted to select a data source. Fill in the relevant connection details and make sure that Hex is allowed to connect to your data source.
For PostgreSQL, MySQL, Redshift, MS SQL Server, & MariaDB, you'll need:

Database host url
Database port
Database name,
Username & password.

For BigQuery, you'll need:
For Snowflake, you'll need:

Account name
Warehouse
Database
Username & password

For Athena, you'll need:

AWS access key ID
AWS secret access key
S3 bucket to write query results to
The default port is 443 and the host is athena.[region].amazonaws.com (if you're using a VPC to connect then the host address is [vpc-specific-url].athena.[region].amazonaws.com). Note: only AWS users who do not use MFA authentication are supported.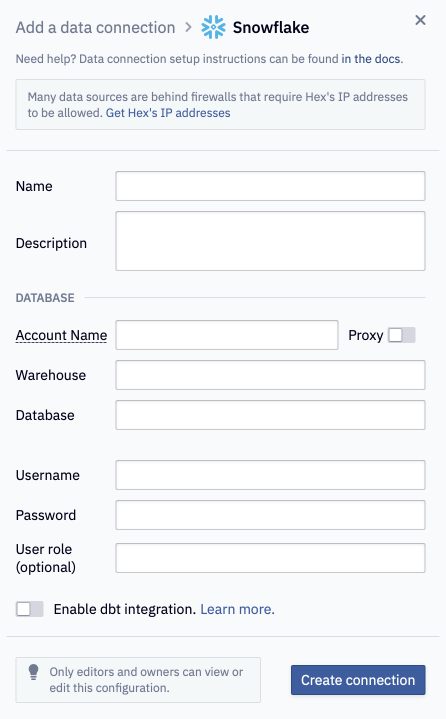 You can establish multiple connections for a given project, which are then listed in the Data sources tab. These connections may be used in SQL cells by any user with Editor access to that project, but will not be available to query from any other project.
Add shared connections
Workspace Admins have the capability to create shared data connections, which can be shared among all users in the workspace. Setting up shared data connections is identical to the process of creating a data connection depicted above, except that only Admins can create them from the Shared assets tab of the Administration panel.
Use data connections to query your database
Once you have configured a data connection, you can query it using a SQL cell. See the SQL cells section for more details.